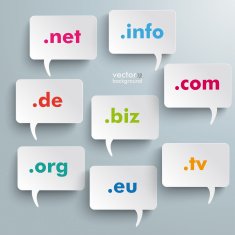 TLD/ccTLD
Intended For
Actual Use
COM
Commercial Entities
Used for general purposes and is widely regarded as the standard for TLDs
NET
Network infrastructure
ISPs; miscellaneous sites; used sometimes when desired name is not available in .com
ORG
Miscellaneous organizations not fitting in other categories (generally noncommercial)
Nonprofits; personal sites; open-source projects; some government websites; mostly used by non-commercial entities
INFO
Informational Websites
Used for General Purposes
BIZ
For Businesses
Various Uses
MOBI
Mobile content providers
Mobile products and services websites
CO 
Second-level domains (widgets.co) and country-code second-level domain names (ccSLDs) are intended for global use:
Alternative to .com – This domain is also widely used in Colombia. Also, is liked by startups
IO
Entities connected with British Indian Ocean Territory
Popular with startup companies and browser games; little if anything related to the territory itself.
ME
Entities connected with Montenegro
Positions itself for global use like a personal namespace; can be registered and used for any purpose. Used by businesses in Maine, Middle East, and Montenegro and is popular for domain hacks.
AI
Entities connected with Anguilla
Used for some sites based in Anguilla, as well as for websites of companies working in the artificial intelligence (AI) industry; second- and third-level registrations are available worldwide, despite minimal usage.
US
Entities connected with the United States
Used in the United States but not as widely as gTLDs
U.S. state and local governments (declining in favor of .gov)
Some American businesses as alternative to .com
Domain hacks (e.g. del.icio.us)
TV
Entities connected with Tuvalu.
Marketed commercially for use in television or video-related sites; can be registered and used for any purpose; little use in Tuvalu
CC
Entities connected with Cocos Islands
A varied assortment of sites, Such as cricket, cycling, christian church, few of them relating to those islands
GG
Entities connected with Guernsey
Popular in Guernsey, gaming, and esports websites
PW
Entities connected with Palau
Dedicated namespace to use as a professional identity on the web; can be registered and used for any purpose
PRO
Business use by qualified professionals
Internet & information technology professionals, consultants, real estate professionals, financial and accounting professionals, engineers, lawyers, communications professionals, medical professionals
WS
Entities connected with Samoa

Not used much inside Samoa, popular for domain hacks
IM
Entities connected with the Isle of Man
Personal domain names for instant messaging users, instant messaging websites, trademarks and local Isle of Man businesses
Used Wikipedia for compiling the above data. I have selected the TLDs and ccTLDs which are generally considered by domain investors and businesses alike. Though there are countless domain extensions but the above domain names have different usages then it was intended for.